This is the Power Delivery Module (PDM)
aka the DC-DC Converter/Junction box on Nissan Leaf Gen1
Part #EM57
Trying to work out how the DC/DC junction box (converter) works
So can use in own EV project
As it has the High voltage to 12v to keep the car battery side alive when in use
Plus the switching links for the HV in from battery and HV out to battery.
And quick charge and slow change links all in it.
So this is the box and where the High Voltage comes in and goes out for battery and inverter
Based on the manuals, I was able to try and get idea of the control wires that go in to it.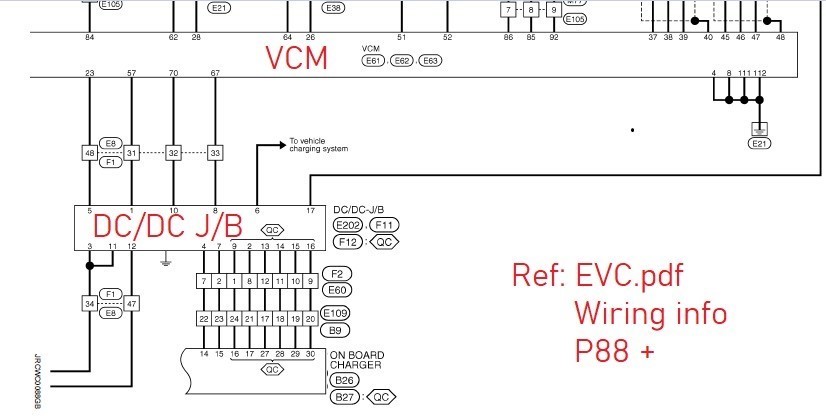 So have two plugs that need to control
Were the manual was no that helpful as showed boxes with no info in them
So I used above wire diagram to work out where they went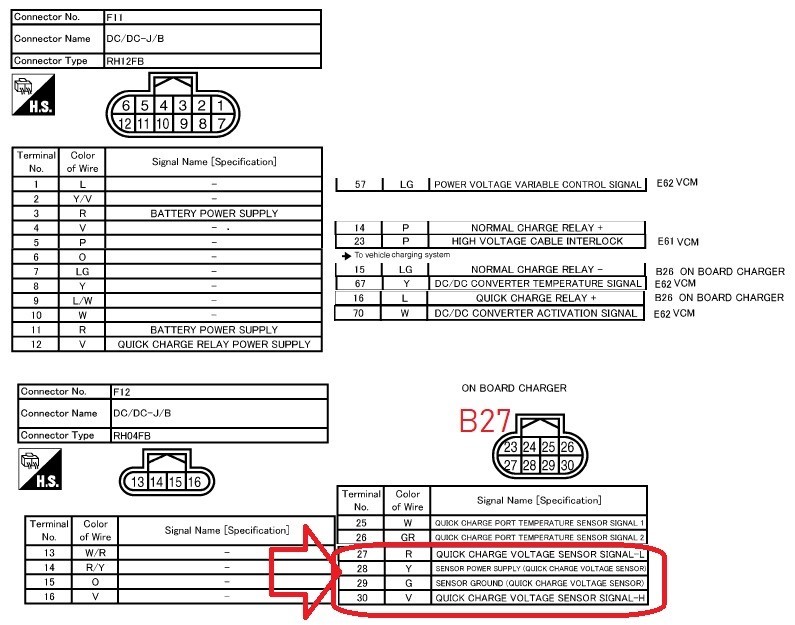 Starting with connection of the 12v lead back to battery
And then GND the case back to battery - terminal
Then referring to plugs F11 & F12
Terminal #3 #11 would need +12v for Battery power supply
And then I was guessing that I would power up the #5 the high voltage cable interlock
But I tried this and did not get any voltage out of High Voltage to inverter ;-(
When you turn on the relays in the battery you hear them engage (with a click)
So so would expect some click also when turing on the DC to DC between the battery and inverter connection
So can any one confirm the wiring out of this box and how can connect it up please
13 Feb 2020 Update:
Pin #1 needs a PWM signal to it
Seem with that and +12 connected to pin #3 you can control the voltage that you 12v battery gets charged at
(Not sure how to make this PWM signal yet, any one have knowledge about creating the signal)
In video he talks about charging voltage
https://youtu.be/ipEzK1yzxHY?t=6723
He says
Min Voltage was 13.04 volts
Max was 15 volts
20% duty cycle is 15v
50% duty cycle is 14v
I think I recall it ranges up to 80% the higher the duty cycle goes the lower the voltage out put will be
So you might want to put some limits on your code
To go from 20% to 80% max
----------------------------------------------------------------------------------
15 Feb 2020 Update:
Worked out that HV battery to HV battery is not switch in junction box as thought
Just was not measuring incorrectly, as is a inter lock on the HV out (to inveter) so meant when tested I was reading zero volts
----------------------------------------------------------------------------------
16 Feb 2020
Managed to get the charging of DC aux battery now
And have main wire info now for the box or leads
If you get #1 live
Then it starts charging,
Not sure the PWM signal needed as when it was liven up started to charge
May have a default, and the PWM can set the desired value
Thanks to Kenny, who pointed out a diagram in the EVC.pdf manual
It shows more of the wiring at high level and can see how its wired up now